It's not a word chanted at the start of a rugby match nor is it fancy nougat or a posh person's way of saying hello. Pronounced hoo-gah, Hygge is in fact a form of light, cosy togetherness particularly enjoyed by, some might say, the happiest of people, the Danish. Get your Hygge on. But how exactly do you do that?
Hygge;
A definition in general terms is what is required for this funny little noun as it defies a literal translation, get the gist from these: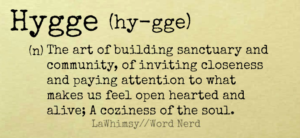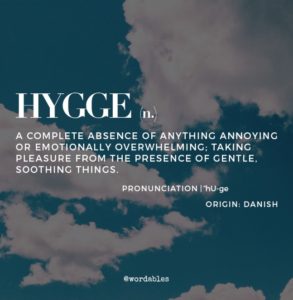 Some things are hygge, candles for example, but you can create hygge and experience it every day. A philosophy so embedded into the Danish way of life that it probably contributes to the huge helping of happy befitting this nation.
The Danes recognise that true Hygge is a departure from 'stuff' and more of a connection with people and moments that create a feeling of contentedness and well-being. A Hygge hug.
Meik Wiking, CEO of The Happiness Research Institute in Copenhagen states that "You hear hygge being talked about all the time – by everyone, no matter who they are. It's like a form of Tourette's." It is, Wiking explains, a key performance indicator of any Danish social gathering. "We talk about hygge things coming up that we're looking forward to; we point out when something hygge is happening right now; then we like to talk about what a great
'hyggelit' (hygge-like) time we've had afterwards."
So in essence, it's the simple things in life, and the associated pleasure we take from them like lighting the candles, watching the hypnotic effects of them burning, enjoying the grotto like glow, sitting chatting, drinking coffee, eating and laughing with friends and family around a fire.
Lights, Trees and The Seasons
Light is a strong theme in creating hygge. Hygge having its roots in 18th century Danish philosophy and possibly being bourne out of the cold dark winters, light and warmth were and are a necessity for counteracting this. Hygge can, however, be commonplace in everyday life at any time of year. Have the glass of wine you enjoy, eat the pastry you fancy and gather with your friends to bask in the glow of the fire after your pub lunch. Consider the adages of 'all things in moderation' or what about 'a little bit of what you fancy doesn't do you any harm'? Hygge may be a Danish word but surely these are elements that we as human beings are naturally drawn to?
Christmas time could be described as Hygge high season, candles, tree lights, christmas lights in towns and cities, ceremonious turning 'on' of the lights, roaring fires, mulled wine, hot chocolate and coffee with friends and big family roasts.
There's a certain calmness, serenity, freshness, health and vitality associated with forests, greenery, green spaces and woodlands not to mention a sprinkling of magic and dare we say it, spirituality. Is it any wonder that the Scandinavians, aside from being surrounded by them, celebrate the tree in their designs, imagery and by harnessing this sustainable resource. The Scandi tree knows no bounds especially at Christmas.
But festivities, celebrations, lights and nature are absolutely not committed to Christmas and the winter months. Consider picnics in the park, barbeques with friends, outdoor concerts, street festivals and bike rides, all very simple things, all very hygge. As we come into the winter months, harness some hygge, an experience, a moment, some togetherness. Hygge = Happy.