So Fathers Day has been and gone, as has the summer equinox, Ali G, Ed Milliband, the new years resolution diet and the Hobbit films.  Yet despite the sure but cyclical nature of events, weather, celebrations and the fickle and unpredictable nature of popular culture; what remains a constant source of amusement, a pick me up when times are tough and life is lack lustre, is the cornerstone of comedy, that silly slap in the face, the witty one-liner.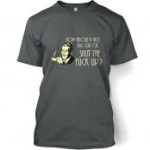 If Atomic Threads was a restaurant then our funny slogan designs would be the perfect amuse bouche to picque your interest and leave you wanting more from the menu.  Our bite sized humour hors d'oeuvres give  you a hearty crack around the chops and tickle your comedy taste buds… ……and of course we all know that the witty one liner is not gender specific.
We do believe this lovely lady has had one too many.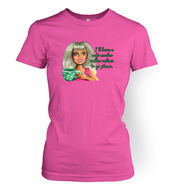 …..and this one clearly hasn't had enough!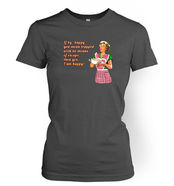 We make no apologies for the delivery; we aim to provoke, nudge, tickle and leave you slightly gobsmacked.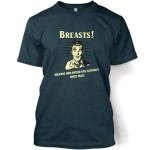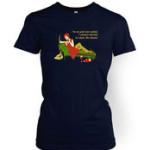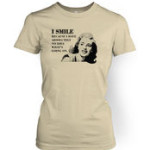 We are nothing if not observant when it comes to humour and more often than not the joke will be on you… (literally)!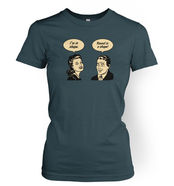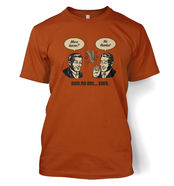 We will keep the tongue firmly in cheek and continue to amuse you with our retro and vintage inspired slogans, captions and one liners. You in turn have to help us to keep the nation doubled over in giggles and guffaws by spreading the word (or words), unashamedly on the front of your T-shirt, bag, apron, mug, coaster, hoodie. Consume, consume consume.
Any one for seconds….?