For those of you unfamiliar with Movember, it is a sponsored charity event which takes place throughout the whole of November every year, encouraging men all over the world to grow a moustache and get their friends and family to sponsor them. The aim of the game is to raise as much money as possible for testicular and prostate cancer, as well as mental health. Over the past few years, Movember has become one of the most popular and talked about charity projects in the world! Since it sprouted it's stubbly head in Australia back in 2003, it has fully taken-root in the lives (and faces) of people all over the world to become a big bushy beast of a success, raising around £276 million by the end of 2012! So to kick of Movember 2013, Atomic Threads are counting down 5 of the most legendary moustaches from TV and film from years gone by, starting with our favourite Brit-born slapstick genius…
John Cleese
Most will recognise Cleese for the supreme wit and side-splitting  humour he's brought to TV and film over the past 5 or so decades, creating fictional national treasures such as  Basil Fawlty and The Black Knight from Monty Python and The Holy Grail. However, we're here to commend him on a 'tache which first graced our screens in the early '70s when the Monty Python's Flying Circus spin-off film, And Now For Something Completely Different, was released – now that's commitment!
Vincent Price
There's not very many pictures of this old-school horror veteran floating around which don't feature that famous pencil 'tashe, but we found one and well, we're not sold – he looks more like he should be in House of Hair Wax than the the 1953 scream-fest! Thankfully, Price donned the moustache that would appear in some of the most renowned horror films of the century, and wear it proudly until his death in October 1993. Vincent – we salute you!
 Ron Burgundy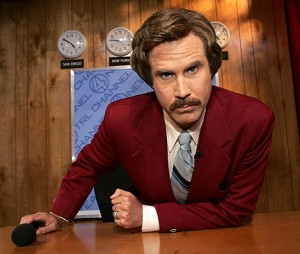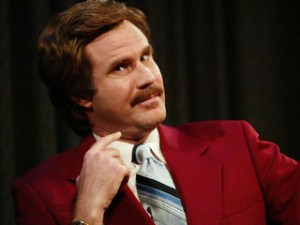 With Anchorman: The Legend Continues set for release at the end of this year, we couldn't miss out the egotistical, sexist, but sharply dressed funnyman from our bristley best! How we envy this epic lip slug; it gets to sit above the mouth of Burgundy and feel the pure comedy that is fired from his mouth on a day-to-day basis. His moronic, yet undeniably hilarious statements and outbursts have been echoed through our lives since we were first left rolling around a sticky cinema floor back 2004 during Anchorman: The Legend Of Ron Burgundy. Stay Classy retro lovers!
Hulk Hogan
He's the grandaddy of wrestling and a complete legend in the eyes of WWF/WWE fans around the world, and he's been plastered over the media since he was introduced into the federation's line-up around 35 years ago! Other than wrestling, the handle-barred hero has been seen in movies such as Rocky III, reality TV shows such as Hogan Knows Best, and he's put his name to a whole catalogue of wacky endorsed products like the Hulk Hogan Thunder Mixer shake maker, the Hulkster Cheeseburger (because a regular cheeseburger just isn't as rad!), and who could forget the awesome Hulk Hogan Ultimate Grill – which probably should've been marketed as the Hulk Hogan Home Incinerator after it was found that the thing can ignite if you do something crazy like use an oil or fat spray on it! Regardless of his questionable ventures in recent years, we can't help but love the Hulkster and that epic handlebar of his! You're our hero, BROTHER!
So, we've reached the end of our countdown, and we think you'll agree we've chosen a worthy #1!
Tom Selleck
When we asked around Atomic Threads HQ, it was pretty clear that there could only be one winner – the Selleck! As kids, we saw him as a role model in Magnum P.I. and we're betting a fair few kids dreamed about becoming a private investigator so they too could live on a tropical island, choose when they wanted to work, drive around in that Ferrari, and swan off on awesome trips with their best buds at will (not to mention the beautiful women)! Yes, Magnum was a worldwide symbol of cool – let's face it, not many other guys could get away with the 'tache, chest hair and Hawaiian shirt look! Selleck managed to keep his cool throughout his career and is still looking pretty suave these days (with the moustache, of course) – he even left us jaws-to-the-floor when he appeared in Friends and bagged Courteney Cox's character Monica! So, Tom, Atomic Threads are proud to name you as grower and maintainer of our #1 TV and Movie Moustache!
Thanks for reading, retro lovers, and we hope we've helped spread the word about Movember! Now we're asking you to head over to http://uk.movember.com/ to see how you can get involved in this amazingly worthy cause!