Top 5 Die Hard facts!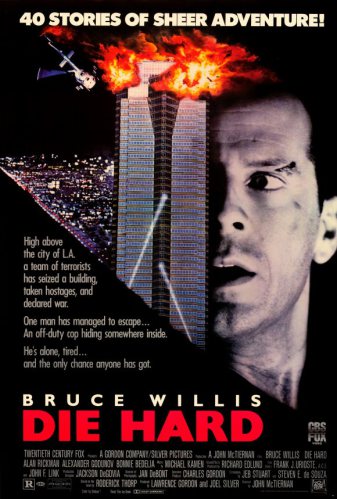 Die Hard is soon to be celebrating its 25 year anniversary, so not only does Atomic Threads have a bunch of t-shirts inspired by the Die Hard film, but we have a list of movie facts that you may not have known! So let's get together and have a few laughs Die Hard fans!

5 things you didn't know about Die Hard!
'Die Hard' is actually Based on a Crime Novel!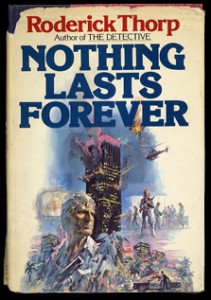 The script for Die Hard is based on a novel called Nothing Last Forever by Roderick Thorp. The book is about a character by the name of Joel Leland. Retired NYPD Detective Joe Leland is visiting the 40-story office headquarters of the Klaxon Oil Corporation in Los Angeles on Christmas Eve, where his daughter Stephanie Leland Gennaro works. While he is waiting for his daughter's Christmas party to end, a group of Cold War-era German terrorists take over the skyscraper! Die Hard 2 was also based on a novel called 58 minutes by American novelist Walter Wager.
Many famous Actors turned down the role Before Bruce Willis
Good old Schwarzenegger wasn't the only actor to turn the part down. Richard Gere, Sylvester Stallone, Harrison Ford, Mel Gibson and even Burt Reynolds were reportedly offered yet declined the lead role. 'Moonlighting' star Bruce Willis eventually landed the part, which helped him move from TV actor to action movie star.
Bruce Willis' Dirty Wife Beater is a National Treasure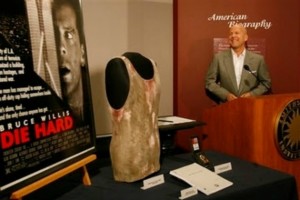 In 2007 Bruce Willis donated some of his Die Hard memorabilia to the Smithsonian, this included the now famous, filthy, blood-smeared vest. It went on display next to other   iconic movie props such as the boxing gloves from Rocky, and Dorothy's ruby slippers from The Wizard of Oz. We wonder what will appear next as a National Treasure?
The entire film was shot at night, but why?
There's a reason the movie is set entirely at night, and it's not just because that's when crime happens. Bruce Willis would shoot TV sitcom Moonlighting during the day, then work on Die Hard through the night.
Bruce Willis was missing from original release poster
The original release poster for the film did not feature Bruce Willis' likeness, just the building (pre-release promo posters did show Willis). The producers were worried that it might deter non-Willis fans from seeing the movie. However after the early box office success the posters were later altered.
Check out these awesome t-shirts inspired by Die Hard, only available from Atomic Threads!